New eCommerce trends are arising that are further propelling the eCommerce industry. Did you know that retail eCommerce sales worldwide reached 4.28 trillion USD in 2020? And this e-retail revenue is anticipated to grow to 5.4 trillion USD by 2022. Some staggering statistics here, right?
Currently, we are experiencing a wave of businesses moving online. This may be accredited, in large parts, to the world pandemic situation. In fact, from March 2020 to February 2021, online shopping grew by $183 billion. As per recent calculations, the US will grow at a compound annual growth rate of 4.68% in terms of retail eCommerce development between 2020 and 2025.
Moving on, the rapid technological developments also contributed to the growth of the eCommerce industry. From artificial intelligence and improved automation to augmented and virtual reality, eCommerce has witnessed a massive boom. Lastly, it may just be a natural process of business evolution that people have shifted to the online platform.
Whatever the case may be, it is safe to conclude that eCommerce has passed an inflection point, and has now become mainstream for people of all ages. Consequently, it is important to identify the most notable eCommerce trends for 2022 and keep pace with them. These trends showcase the future of e-commerce and are anticipated to prominently modify the online shopping experience.
Evolution of eCommerce
Talking about 2021, e-commerce is a mammoth industry. But just 25 years ago, the scenario was completely different.
Amazon and eBay were practically the first marketplaces to leverage the benefits of e-commerce and buy and sell goods online.
The two e-commerce giants got their start merely two and a half decades ago. During this time, consumer interest and participation in online shopping also grew massively. As per Statista, over a quarter of the world's population (2.14 billion) will become digital buyers by the end of 2021.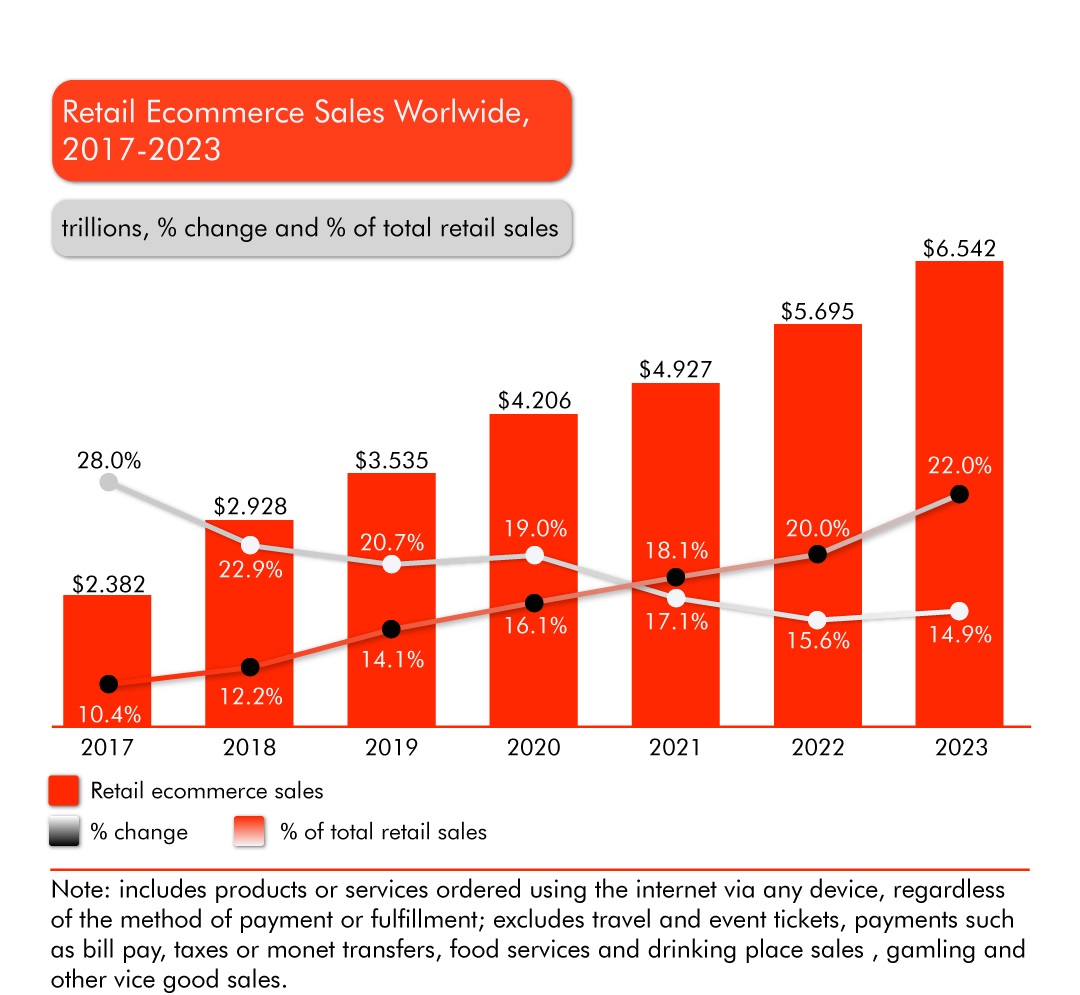 Leading Ecommerce Trends & Technologies Impacting the Industry
'The customer is always right', a notion popularized in the early 1900s. The attitude was certainly novel and influential for its time. However now, we live in a world where the customer may not always be right in your view but is definitely armed with many choices. They hold power in the market as they have a plethora of offers to pick from.
Thus, apart from offering a stellar product, you also need to ensure a wholesome shopping experience to keep your customers engaged. Everything from a seamless checkout process to new payment gateways and quick delivery, your brand must ensure a customer-centric experience.
Here are some eCommerce trends that you must watch out for to give your eCommerce brand a competitive edge. These trends are the future of eCommerce that are set to shape the industry in a big way.
Personalized Product Recommendations
The customers have become much more aware. They value a differentiated and individualized service. And if you want your eCommerce brand to stand out, you need to tailor personalized customer experiences.
Personalizing the product makes a huge difference in customer satisfaction. According to a survey by Deloitte, 1 in 5 customers are willing to pay a 20% premium for personalized products and services. Also, 22% of the customers are happy to share their data in exchange for personalized services.
Yelp, for example, has been among the first-movers in the space. With over 200 million user reviews, the Yelp app provides authentic restaurant information, listings, and user reviews. Last year, the company began focusing on personalizing its recommendations to improve user experience. It lets users specify several things about their likes/dislikes, food preferences, etc., and offers highly relevant and tailored recommendations that users love.
More and more brands are adopting this eCommerce trend now. Experts believe that 2022 will be all about personalizing the customer's shopping experience to reinforce brand loyalty.
Let us also look at some of the top reasons why consumers are willing to share their personal information with brands:

M-commerce
Using mobile apps to buy and sell products is known as mobile commerce or m-commerce. Nowadays, a majority of customers are using mobile devices to browse different eCommerce websites. In 2021, 72.9% of all retail eCommerce is anticipated to be generated via m-commerce, up from 58.9% in 2017.
Consequently, all eCommerce businesses need to adapt their online shops to mobile screens. Additionally, it may involve building a separate app for the particular purpose of reaching more mobile buyers. Brands like Sephora and Zara are massively capitalizing on this eCommerce trend. Inditex, Zara's parent company that owns numerous brands is investing $1 billion to improve its online shopping platform over the coming three years. The company says that 25% of all sales are expected to come from its mobile app by 2022.
Omni-channel Selling
Merely focusing on a single channel for selling your products only shows how meager your customer acquisition efforts are. Having a single-channel presence greatly limits your chances of connecting to your target audience.
Alternatively, expanding your reach to multiple channels and social media platforms can directly put you in front of your potential customers. According to Google, omnichannel selling strategies drive an 80% higher rate of incremental store visits. For instance, the U.S. retailer Target marked its best-ever quarter in Q2 2020. During this period, the sales ramped up by 24.3% and digital sales soared 195%. And this is primarily due to the integration of digital and physical- omnichannel.
The study below noted the customer retention rates for different brands that used an omnichannel marketing strategy vs. those that focused on a single channel.

Voice Search for Shopping
Thanks to Siri and Alexa, we all are familiar with voice-enabled search assistants. But what you may not know is that these technologies are becoming increasingly popular among users, especially millennials.
Going by the latest reports, the voice-assistant speaker market is all set to reach $4 billion in 2022. Voice shoppers are anticipated to increase by a whopping 55% and voice shopping will cross $40 billion by 2022. And these prominent statistics only promise one thing- voice search will be an integral component of the future of eCommerce.
So, if you want to give your eCommerce brand a competitive edge, make sure to invest in voice search technology. You can use voice search optimization strategies to rank for phrases and keywords that suit these voice commands.
Ecommerce Delivery Drones
Essentially, drones are flying robots that can be programmed to fly on their own or manually controlled. In other words, drones depict the future of automation. But you may wonder how do these drones relate to eCommerce?
Well, experts predict that in the coming years, drones can easily replace delivery personnel by delivering orders to the customer's doorstep. These drones are indubitably faster than humans. Thus, their mass adoption can lead to shortened delivery timelines. Furthermore, they will cut down the costs for companies, leading to greater profitability. So, these drones are among the leading eCommerce trends that can really alter the future of eCommerce.
Amazon was among the first ones to get hold of the concept and apply it to its business model. Consequently, the company announced Amazon Prime Air, an avant-garde delivery system to get packages delivered via drones in less than an hour. Although the concept is not yet in implementation, it is inevitable, considering Amazon's history of innovation. Apart from Amazon, Dominos and Taobao in China are other leading brands trying to implement the concept. If successful, drones could be used for the delivery of food, medications, books, and much more. And companies using drone-based deliveries will surely get a massive competitive advantage.
AI-enabled Chatbots
For large-scale eCommerce businesses, customer service is a huge part of the trade. Managing tons of customer queries, resolving them on time, etc. is a big responsibility that involves a lot of effort and manpower. But often, businesses are unable to hire hundreds of customer service representatives to take care of that.
Thankfully, the development and evolution of chatbots in the past years have streamlined the way customer service runs. From answering customer queries to collecting feedback and even suggesting product recommendations, chatbots have simplified customer service. A recent report alleged that businesses spend around $1.3 trillion on customer requests each year. But with chatbots, this expense can be reduced by almost 30%.
The Drift's 2020 State of Conversational Marketing report identified chatbots as the fastest growing brand communication channel. In 2020, 24.9% of the buyers used these bots to interact with the business as compared to the 13% in the year before.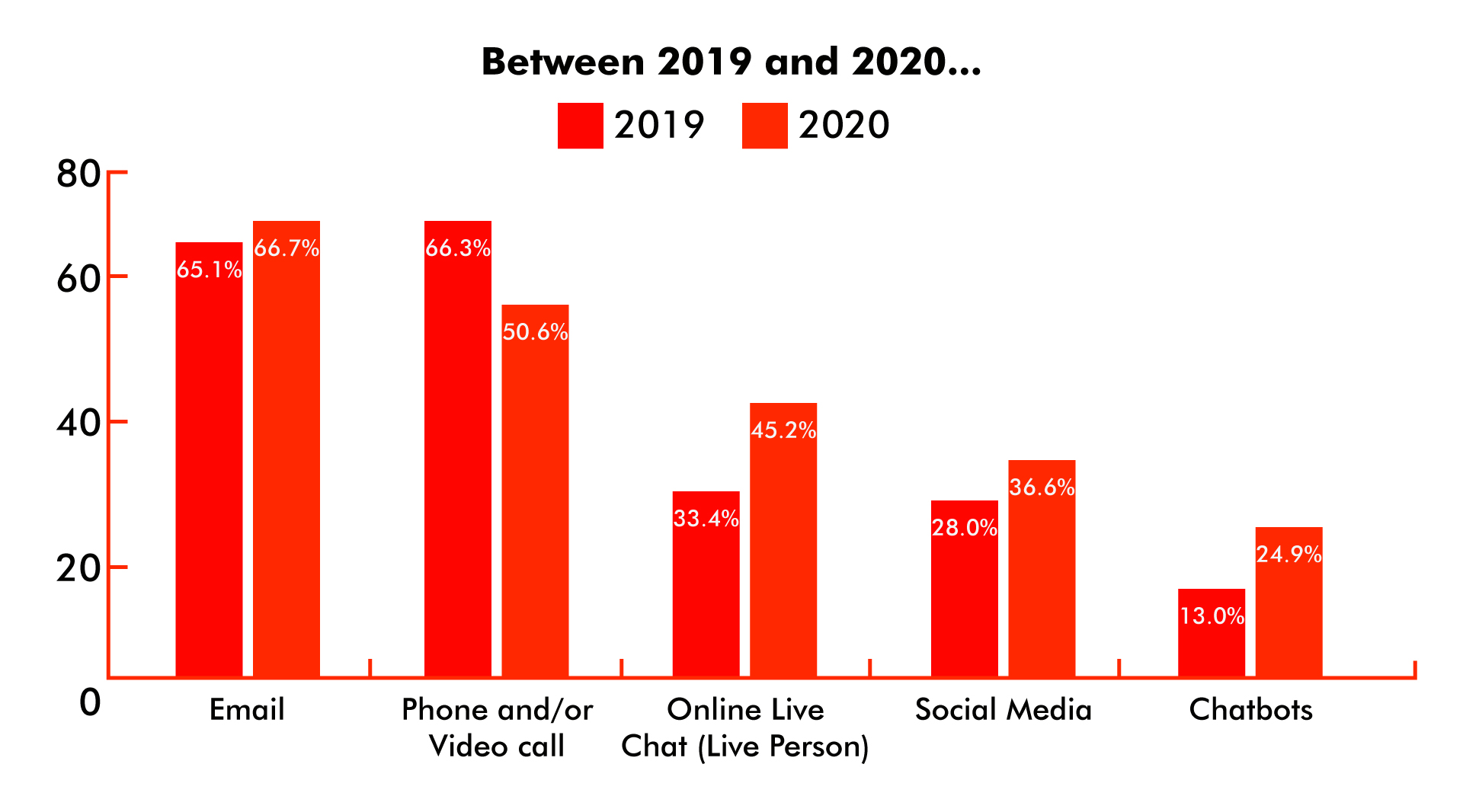 Integrating chatbots into your customer service is the best way to facilitate faster and effective communication. More sophisticated bots that are powered by AI and ML even help to personalize responses according to the customer's queries.
AR & VR for Shopping
Online shopping has picked up pace in the past few years. However, even now, many customers refrain from online shopping for there is often a gap in what you see online and what it appears like when it is delivered. But technologies like AR and VR are set to fill this gap.
AR and VR help to replicate the physical world online. They help the customers to see how the product looks like and how it will fit into their everyday lifestyle. Seeing the product more vividly enables the customers to make smart buying decisions.
Reports suggest that 71% of the customers are willing to purchase more from brands that offer AR and VR. Furthermore, 32% of the consumers are already using AR while shopping. Currently, IKEA is using AR to power furniture shopping. The company enables the shoppers to view furniture in their homes and see how it would look in the area with 98% accuracy.
These Ecommerce Trends Define the Future of Ecommerce
The eCommerce market is evolving just as swiftly as it is growing. Owing to rapid innovation, the eCommerce landscape may look a lot different in the coming few years. To stay visible and competitive, you must discover new eCommerce trends and solutions that help to acquire dedicated clients and offer a unique shopping experience.
Currently, it is important to focus on operating in the m-commerce sector as well as building an omnichannel presence. Additionally, leveraging technologies like AR/VR, voice commands, AI-powered chatbots can help you get an edge over your competitors.