We're several years into the digital age now; clearly, we're at a point where we cannot do without smartphones and apps! A good part of our daily life activities is indeed dependent on apps.


For the same reason, the mobile app market is growing and evolving at never-before-seen rapid rates.


According to published statistics, there were estimated to be around 2.7 million apps on the Google Play Store and 1.8 million apps on the iStore as of the third quarter of 2019.


These figures point to two main things; how important mobile apps are for people and how fierce the competition is in the app market.


Several types of research conducted on app store usage, in general, prove that users spend on average about 3 seconds to make a decision on which app to download. Naturally, considering the number of apps already available in the market, you need to give your target audience a unique and powerful reason to choose your app over others.


Offering app users exactly what they need is one thing to focus on. But every app owner already does that. Hence, competition and availability of multiple alternatives may be one reason why your app doesn't get downloaded as often.


To get customers to prefer your application over others may seem like a difficult ordeal to achieve from that perspective. However, once you find out the core issues of your app and concentrate on improving certain aspects of development and distribution, it is indeed possible.


So how can you get ahead of the hundreds of other app owners who already offer what you offer?


Here are 5 major reasons why your app fails to get enough downloads and how you can turn it to your advantage.



Poor market and audience research

It may seem like a no-brainer, but believe it or not, it is often improperly done market and audience research that results in less downloads. It is something that should be taken into account long before starting the development process.


You, of course, have your research team pull out some basic demographics to get an overall idea of your target audience, and that's probably where you started drawing up the basic functionality of the app.


But that's not enough.


What you need is a deeper understanding of the audience that you intend to target with your app. There may be different types of users for your app, with different needs and usage patterns. You need to effectively identify the app's core demographics and hypothesize individual usage profiles, each with separate behaviour patterns, intentions, goals and age groups. This will help you figure out the exact kinds of features that your app needs to have, the features that would appeal to your users and the interface that your app should showcase.


Additionally, it will also help you identify the pain points that your audience is likely to face and in turn devise the functionality required to solve those issues over time.



Poor usability

Imagine this scenario; your app has all the state-of-the-art features that your users need. No other app offers as many useful features as yours does. You've decided to switch up from the regular hamburger menu style to a different one, but as a result, your user finds it difficult to navigate from their dashboard to their history page.


Result: your user gets frustrated and decides to use a simpler app.


The above is the simplest use case scenario of an app that has poor usability. No matter how many advanced features your app may have, if it is not easy to navigate through it and if your user is finding it difficult to carry out basic operations within your app, then it is a result of poor usability; undoubtedly your app will fail to get downloaded as often.


Issues like long and unnecessarily detailed registration processes, performance issues like load times, inability to locate essential features etc. all contribute to poor usability.


Of course, every app is unique and each one requires different basic features. Hence we always advise our clients to make use of our comprehensive Mobile App Usability Report that helps optimize app features and achieve a smart and user-friendly app.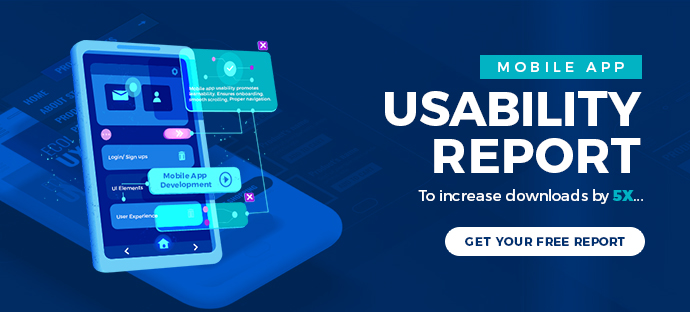 Lack of originality

Once again it needs to be emphasized that your app needs to stand out from every other similar app in the store. As mentioned before, what your app intends to offer may be offered by another 100 apps that are already available. Why would the user click download on your app, in the 3 seconds he spends in the store?


That's what you need to figure when doing market research. You need to identify must-have features as well as good-to-have features for your app. Additionally, ask yourselves, what else would your users be delighted to have on your app?


You can also do further research with competitor apps and user paint points to come up with unique capabilities that no other similar app offers.



Missing post-launch communication strategy

Mobile app developers often make the mistake of assuming that it is a done deal once the app is launched. However, it is one of the most crucial phases where you need to be fully and effectively involved with your app's audience.


Post-launch communication is the key to make users download and retain your app in their phones. For that you need to provide optimum and easy feedback channels, prompt and effective customer support, incentives to further disseminate your app and the like.


Other than all of these, it goes without saying that you must maintain proper metrics of your app usage and download patterns. You can leverage the information to roll out updates and further make your app more useful.


All of these post-launch communication aspects must be done in a systematic and strategized manner without one overshadowing the other.

All of these post-launch communication aspects must be done in a systematic and strategized manner without one overshadowing the other.



Ignoring platforms

In an age where people use "devices" for any and everything they do, it is inevitable that you make your app responsive and compatible with all kinds of commonly used platforms. Of course, it may not be feasible to include certain platforms, but doing thorough market research will enable you to figure out what platforms you absolutely cannot ignore.


In any given day, ignoring platforms in the current scenario may not be the best way to cut development costs.


Also, you need to make sure that your app works seamlessly across all the apps you decide, failing which can lead to frustrations and in turn lack of retention among users as well.



Conclusion

Apart from this, there can be many reasons why your app fails to get enough downloads. As one of the highest-ranked Mobile App Development Companies in India, we have been able to assist and guide several app owners towards creating excellent applications. Our Mobile App Usability Report and our expert mobile development team have been providing relevant insights and consistent support for a number of leading brands, start-ups and enterprises in the country.


If you've been facing any of the above issues with your app, talk to our app development experts to receive your mobile app usability report. Figure out your core issues and start building a winning application with our expert consulting team.