Purge that's undoubtedly coming in Play Store.
Bad News for play store Spammers.
As reported by The Next Web Google reveals its plan to penalize google play store apps which do not have valid privacy policies.
According to Google Play store Guideline user data policy, App publishers must have "transparent" in how they collect and handle user data.
Google has started sending notices to developers across the world revealing its plan to "limit visibility" or remove apps from the Play Store that violate the company's User Data policy. For most developers, the violation seems to be a simple one: Lack of a privacy policy
And App developers have until March 15 to make the privacy policy addition, or Google warns "administrative action will be taken to limit the visibility of your app, up to and including removal from the Play Store.
Here's the full text: Source The Next Web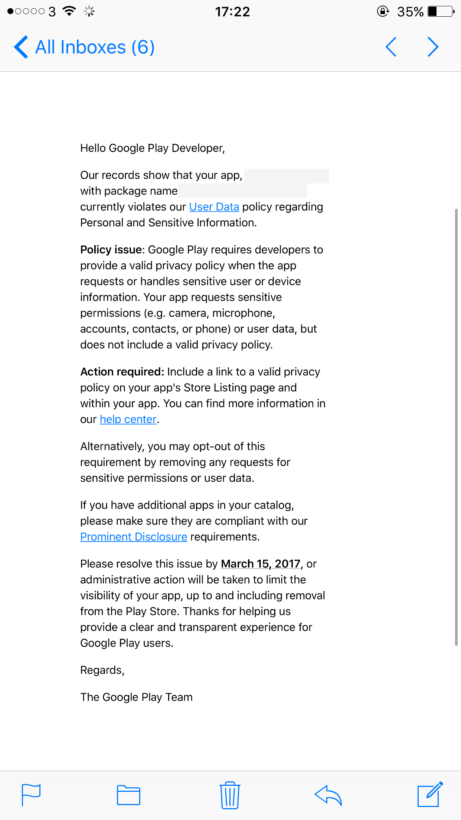 This action will help the android developers to stand out from this crowded market. And This will make it easier for people to be able to find our app's with better keyword searches and find much more relevant results.
Many app developers are welcoming the move taken by Google.
Jack Cooney of Nerd Agency — creator of the popular "Hip Hop Ninja!" app says:
I think it's fantastic, this will clear the Google Play store of so many junk and zombie apps that our games will find increased visibility on the store as the search terms will become much less cluttered.
Developers can add a link to a valid privacy policy which submits to Google's Store Listing page, as well as within the app itself until March 15 this year. Alternatively, developers can simply remove the permissions request to collect sensitive user information.
If app developers ignore the warning, their applications are at risk of being nowhere in the App Store or removed altogether.