Team management is one of the key elements of any modern workplace. Virtual collaboration of a team can happen from anywhere, which can make coordination even harder. It's important to adopt modern work culture and technologies to help share work and solve issues. This isn't always easy. When syncing updates between tools like Jira, Github, Slack, Wrike, and so on, it's even harder.  We recently discovered a great service called Unito which helps ease that pain. A lot of our teams time in managing updates and status between  tools is now automated, thanks to Unito.io
I'll go into Unito's features & benefits and how we use them, but first let me ask a question. How do your development teams and project management teams share updates? You want your development team to live in Github and check issues, commits, and so on. You want your project management team manage tasks on Jira and stay out of GitHub. How do you manage this? Let me offer the solution that we used.
About WeDigTech
As Founder & CTO at WeDigTech I am always focused on unlocking team productivity. We work with brands like Red Bull North America, Uber Holland, Yappn Corp., Audio Video Unlimited and deliverability on time is key. Part of keeping productivity high involves using the right tools. We streamline and manage our project source code in GitHub. We coordinate projects & documents with our client's offshore teams in JIRA. These are great tools, but there's a big gap between them.
What do I mean? Let's talk a little about the tools that we use at WeDigTech.
What is JIRA
JIRA Atlassian's team collaboration and project planning software. It's a paid tool and available on-demand with monthly pricing plan subscription. To know more about JIRA, click here.
Unique Features:
Native mobile apps

Source and issue integration

Requirements management

Bugs and defect management

Search engine with filters

Agile Reports

Custom workflows and dashboards

Scrum boards

Kanban boards

Portfolio planning

and more
What is Github
GitHub is a web-based Git repository hosting service for projects. It's the world's largest and most popular code repository for the Git revision control system. GitHub also features social networking elements: news feeds, followers and a network graph. Software developers love GitHub for its simple interface and easy code collaboration. To know more about GitHub, click here.
How we connect it all together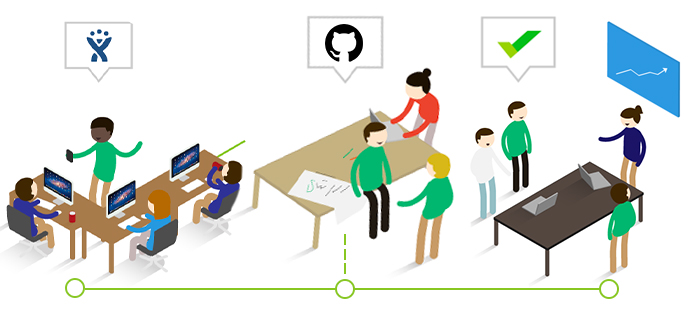 Our deployment teams use Unito to sync between Github and JIRA and fill that gap. Unito saves immense amounts of time spent sharing updates & progress. It let individuals focus on their core work and deliverables. Our team members do not need to access different tools for posting updates, all we need is to use is Unito!
We did a POC using a trial account on Unito for our Jira projects and Github repositories. Shortly after, we implemented it through the whole team. Now everyone shares perspective on the organization's entire workflow in their favorite app. JIRA and GitHub are both great collaboration tools, but they have different focuses. GitHub handles project collaboration. JIRA is a great team collaboration tool.  Both team and project collaboration software are critical in businesses around the globe. They share a common audience, but they have different strengths and different applications.
The Unito Difference
The best part about Unito is that it is true two-way sync. Here's how it helps you, no matter the role that you have in a team:
1. Product Manager: Keep tabs on your whole team
With Unito one can connect JIRA and GitHub for united teams and do two-way sync

Get a high-level roadmap of your entire team

Connect team members any time
2. Scrum Master: Manage work from many teams
Distribute work of with teams into your app of choice

Coordinate work that is scalable & tool-agnostic
3. Executive: See the big picture
Build a high-level roadmap

Critical update notification

Help unite your teams wherever they are
4. Team Member: Collaborate across the company
Project progress report, no matter who's working on them.

2-way sync for JIRA, and GitHub keeps everyone in the loop!
Final Words
Unito's ability to synchronize team collaboration tools makes it powerful and productive for everyone. We can now communicate both ways the apps our team is using. Special thanks to the Unito.io team for great support!